FSEG LOCATION MAP
On this pages you will find information concerning the Greenwich Maritime location of FSEG. You will also learn how to reach us by road, rail, tube and aircraft.
OUR POSTAL ADDRESS (link to Google map)
FINDING US ON THE GREENWICH MARITIME CAMPUS
GETTING THERE BY ROAD, RAIL, TUBE AND AIRCRAFT
conveniently located hotels


OUR POSTAL ADDRESS
Fire Safety Engineering Group
University of Greenwich
Greenwich Maritime Campus
Old Royal Naval College
Greenwich SE10 9LS
U.K.
Click here for Google map
The University of Greenwich has established a major campus within the newly established Maritime Greenwich World Heritage site, centred on three historic buildings designed by Sir Christopher Wren. The headquarters of the university are based here and up to 3,000 students will study on this splendid baroque site. The Maritime Greenwich University Campus will include a new library, the largest in the university, with state-of-the-art computing and learning facilities. Based in a listed 18th Century building, £12 million has been invested to restore it to its Georgian splendour. Student accommodation will be provided above the new Docklands Light Railway station nearby and in the grand surroundings of Devonport House, which will also offer conference facilities and a postgraduate centre.
Greenwich has a fascinating history. Henry VIII, Queen Mary and Queen Elizabeth I were all born here. The Queen's House was designed by Inigo Jones for James I's wife in 1618. The National Maritime Museum has been built around it, while the Old Royal Observatory sits on the top of the hill from where you can enjoy views of the whole of London.
Greenwich is a thriving and bustling town with a great atmosphere. Major attractions include the Royal Observatory, The National Maritime Museum and one of London's Royal Parks best Royal Parks. The Meridian Line bisects it so you can set your watch by the Greenwich Mean Time digital clock. Greenwich park rolls down the hill from Blackheath Village into Greenwich - both have excellent pubs and restaurants.
FINDING US ON THE GREENWICH MARITIME CAMPUS
FSEG is located on the third and second floor of the Queen Mary Court. The directors office is located on the third floor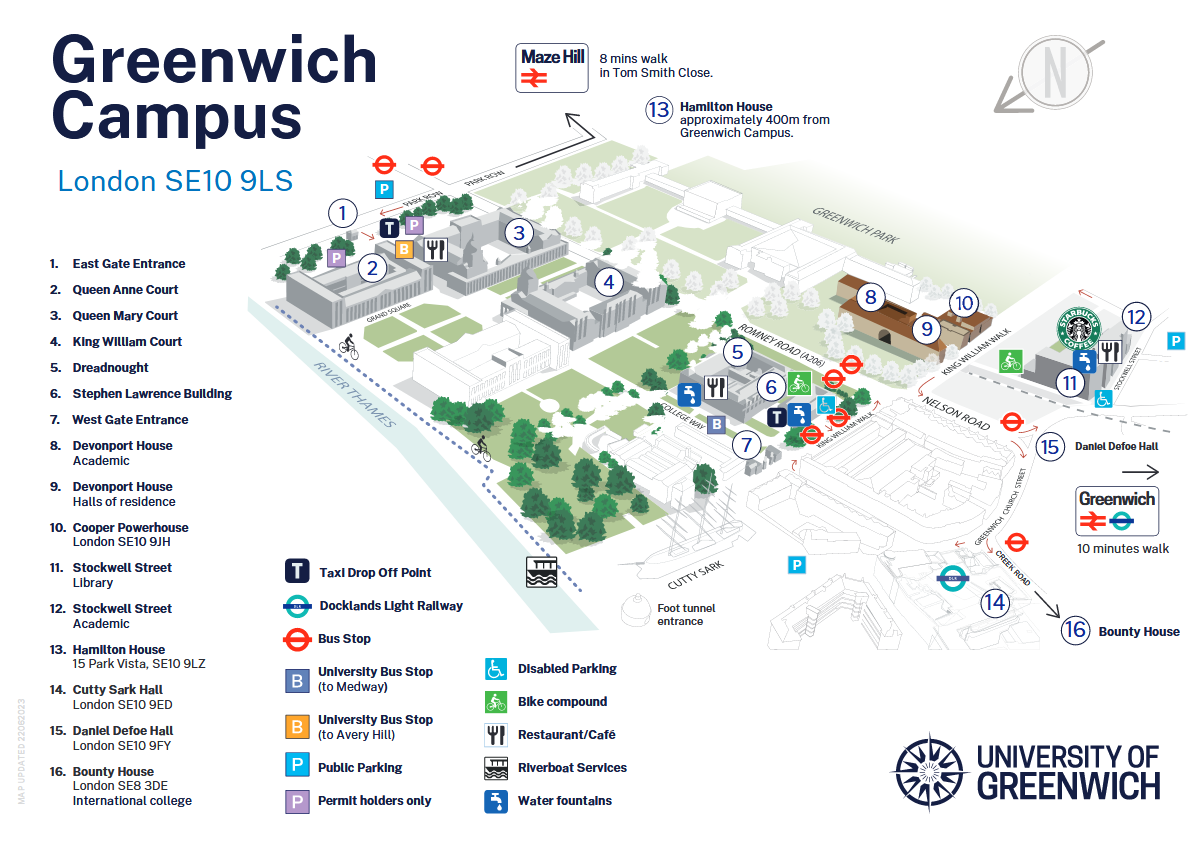 GETTING THERE BY ROAD, RAIL, TUBE AND AIRCRAFT
ROAD:
The A2 and A20 provide access to Greenwich. The Blackwall Tunnel links Greenwich with the northern side of the Thames. However, due to the high levels of traffic in Greenwich and the very strict parking regulations, we advise visitors to use public transport. Limited on-site parking is available however this must be arranged in advance.
RAIL:
From central London take the Greenwich Line from Charring Cross, London Bridge, Waterloo East or Cannon Street to Greenwich Railway Station. Also, the University East Gate entrance is close to the Maze Hill Station (8 mins walk).
DOCKLANDS LIGHT RAILWAY:
The Docklands Light Railway station at Greenwich is called 'Cutty Sark for Greenwich Maritime' which is 2 minutes from the University West Gate. This station is very conveniently located for travel to FSEG.
TUBE:
The Jubilee and Elizabeth Lines run through Canary Wharf where you can change onto the Docklands Light Railway.
BOAT:
Greenwich to Westminster is 35 minutes via the Thames Clipper.
AIRCRAFT:
City airport is our closest airport (approximately 30 minutes). From City Airport catch the Docklands Light Railway to Cutty Sark for Greenwich Maritime. Alternatively, you can use Heathrow or Gatwick or Stanstead airports.
Click here to view Transport for London website (Information on public transport)
Click here to view the AA website (For car journey)
Three conveniently located hotels (i.e. walking distance) for the Greenwich Campus are:
Click here to bring up Google maps with nearby hotels to Greenwich campus.